The Mohave Gold Project has a long history of exploration and small-scale mining dating back to 1865. Gold was discovered at the Dixie Queen Mine in 1894. The Project is a low-sulphidation epithermal gold-silver prospect considered to be in the advanced exploration stage. The Project comprises 160 contiguous mining claims covering 1,176 hectares in the Mohave County, northwestern Arizona. It is road-accessible with a well-developed network of access roads to historical workings and drill sites. The Project is permitted for construction of up to 600 drill sites and approximately 27 kilometres of access roads.
Exploration to date by historical operators has outlined several mineralized zones through relatively shallow drilling along with additional targets outlined through geochemical and geophysical surveys which have not been drill tested. Extensive alteration and widespread gold mineralization outlines three mineralized trends: the Golden Door, the Klondyke and the Dixie trends. The Dixie trend has seen no drilling to date, despite the presence of highly anomalous rock and soil geochemistry and the presence of numerous historical workings.
Modern exploration, predominantly Reverse Circulation ("RC") and Rotary Air Blast ("RAB") with only 9 diamond drill holes, began in 1975 and continued intermittently to 1995. Various geophysical and geochemical surveys have been completed by several operators in recent years, though the last time drilling activities were completed on the Project was 1995.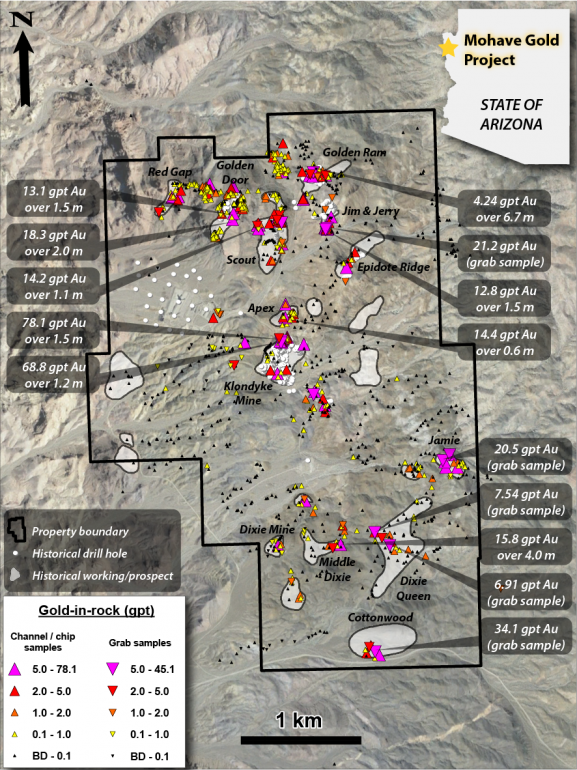 The first production in the district was from the Klondyke and North Klondyke mines in 1898, with documented production of approximately 4,500 tons averaging 19.3 gpt gold. The Red Gap mine was discovered in 1904. There is no known record of production at the Red Gap mine, though a one ton "test shipment" from the No. 2 tunnel in 1926 assayed 85.8 gpt gold and 497.7 gpt silver. The Golden Door open pit mine is reported to have produced about 20,000 tons averaging 7.46 gpt gold over a thickness ranging from 0.61 metres to 2.45 metres. This mine was closed during World War II. The Dixie Queen Mine is reported to have produced some 4,000 tons at an average gold grade of 23.3 gpt. Other mines with unknown past production include the Scout, Jim and Jerry, Apex, Middle Dixie and Dixie Gold mines.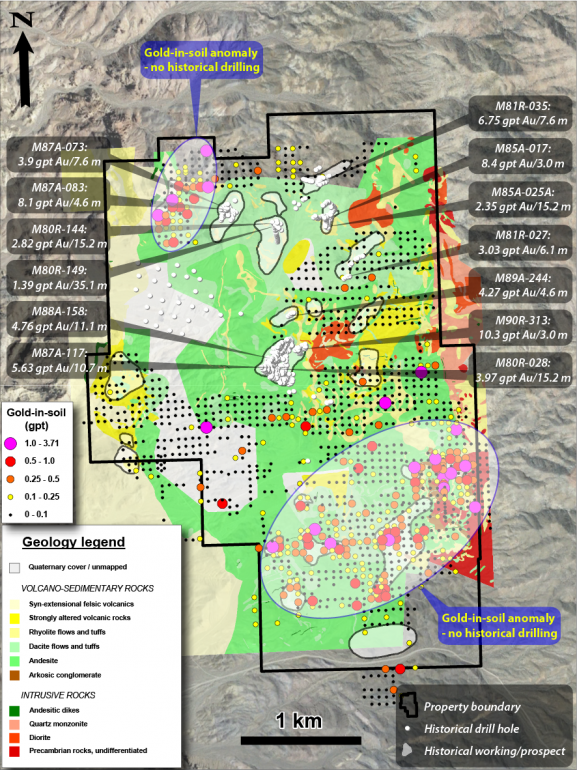 The Option Agreement on the Property calls for the Company to pay US$3,350,000 cash (the "Cash Payments") and for work expenditures totaling US$1,700,000 (the "Expenditures") over 5 years in order for the Company to earn a 100% interest in the Property (the "Option"). The Company may, in its sole and absolute discretion, accelerate payment of the Cash Payments. In the event that the Company accelerates the Cash Payments in full, the Option will be deemed to be exercised whether or not all the Expenditures have been incurred. Upon full payment of the Cash Payments, the Company will grant a 1.5% net smelter royalty to the Optionors and Desert Ventures Inc.
Mohave Project Option

Dates

Cash (USD)

Expenditures (USD)

Status

2023-04-21

$ 50,000.00

Complete

2023-06-30

$ 100,000.00

2024-04-21

$ 150,000.00

$ 250,000.00

2025-04-21

$ 150,000.00

$ 250,000.00

2026-04-21

$ 150,000.00

$ 400,000.00

2027-04-21

$ 1,100,000.00

$ 400,000.00

2028-04-21

$ 1,650,000.00

$ 400,000.00

Total

$ 3,350,000.00

$ 1,700,000.00
The results contained were completed by previous operators of the Mohave Project. Although Proser Gold was not involved in the original work in respect of these results, proper industry data verification procedures appear to have been followed.